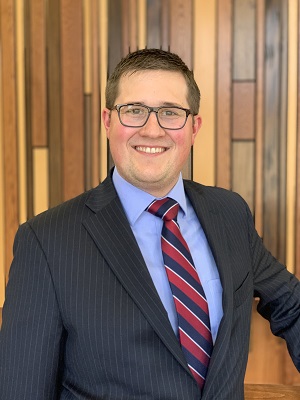 By: Brian Klintworth, CPA
"How do you stay 'Healthy Under Pressure'?" is the namesake question and also one of my favorite questions asked on the podcast hosted by Amber Pankonin, a registered dietitian in Lincoln, Nebraska. Amber's podcast, which has been up and running for over a year now, focuses on the struggles that the entrepreneurial community faces with being healthy as they balance a number of challenging problems and high demands. As a dietitian, Amber certainly focuses on the aspects of staying physically healthy, but there is also an emphasis placed on mental health, financial health, etc. While this podcast targets the entrepreneurial community, I believe most people, regardless of industry, can find value in the content Amber provides.
I was lucky to have the opportunity to be a guest on one of the Healthy Under Pressure episodes (which aired on January 21, 2019) to talk about financial health and well-being as well as the things that I do during tax season to stay healthy.
Financial health is something that I, as an accountant, always seems to be on the top of my mind, both for myself and for my clients. One of the things that I have noticed is how much easier it is to try and stay financially healthy if you have a plan. Budgeting is a word that can conjure up negative feelings, but it really shouldn't be that way. Technology has helped make both the budgeting process and the tracking process easier. Mint.com is a great example of a website that helps with budgeting. Through Mint.com, you can link many of your accounts to automatically pull in transactions, which can save a lot of time. Having a plan and working to track what you are doing can go a long way toward helping you get a better grasp on your finances.
For entrepreneurs and those with small businesses, accounting can be overlooked as they are getting their business up and running. However, setting up the proper accounting systems from the start, as well as finding the right accountant to work with, can help make the business more successful. When a new business owner first sets up their accounting processes, there are a lot of decisions and choices that can have an impact on the company down the road. Sitting down with someone to help think about those longer term decisions is critical, and can benefit the business in the long run. Especially if the entrepreneur's goal is to sell the business at some point, making sure that everything is set up properly from the beginning is crucial. Upfront set-up costs can lead to long-term cost savings.
Even if you are not an entrepreneur, you are probably a busy person who is trying to juggle a lot in life. I would strongly recommend listening to Healthy Under Pressure. You can learn more about the podcast and about Amber at http://healthyunderpressure.com/. If you would like more information on financial wellness or the accounting services we provide for start-up businesses, please contact our office at 402.423.4343.