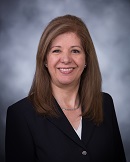 Adriana Carvajal-Rodriguez has been appointed by Governor Pete Ricketts to serve on the Latino American Commission's Board of Commissioners.
Carvajal-Rodriguez replaces Commissioner Jack Gutierrez who served as Commissioner since his appointment in 2013.
She is a Senior Staff Accountant at HBE Becker, Meyer Love LLP in Lincoln. Her work includes preparing federal and state income tax, personal property tax returns and examining business financial records to help businesses with tax preparation.
Carvajal-Rodriguez immigrated to College Station, Texas from Saltillo, Coahuila, Mexico, with her family in June 1989. She took care of her children, Oscar Jr. and Adriana, while her husband, Oscar Rodriguez, was earning his Ph.D. in Plant Pathology at Texas A&M University.
During this time, she started to volunteer in her local community. She helped her local church with Bible study, with reading programs at her children's school and with the Boy Scouts of America where Oscar Jr. became a Boy Scout.
"I was a member of the Board of Review, interviewing scouts that appeared before the board to be examined before moving to the next rank. I was involved with this organization from 2000 to 2012, until my son earned his Eagle Scout badge," she said.
After 13 years of being a stay-at-home mother, Carvajal-Rodriguez returned to the workforce as an accountant. She had received her bachelor's in science degree in accounting from Universidad Autonoma del Noreste, in Saltillo, Coahuila, Mexico, in 1982. To work as an accountant in the U.S., she earned her bachelor's of science equivalence in accounting by Josef Silny & Associates, Inc. International Education Consultants, which is recognized by the U.S. Department of Education, on Dec. 27, 2007.
"After moving so frequently, I lived in four different states (Texas, Florida, Idaho and Indiana) during the past 15 years, I am enjoying settling in Lincoln, Neb., where I have felt so welcomed. I moved to Lincoln in June 2014 and started working in November."
Her daughter Adriana graduated from Florida State University in 2012 with a bachelor's degree in Anthropology. Her son, Oscar Jr., is currently a senior at University of Nebraska-Lincoln (UNL) majoring in Mechanized Systems Management. Her husband, Oscar Rodriguez, Ph.D. is a research professor at UNL's Dept. of Agronomy & Horticulture.
Even though she has re-entered the workforce, she still makes the time to volunteer in her local community in Lincoln.
"I started to look for opportunities to be involved in the community. The following year, I became a board member of the Haymarket Theatre (July 2015), and been there since then," she said.
Carvajal-Rodriguez believes her past experiences will help her in her new role as a Commissioner.
"When I learned that there was an opening to apply for the Commission on Latino Americans, I did not hesitate to submit my application. This is a great opportunity and I am honored to have been appointed by the Governor as a member of the Commission on Latino-Americans. As a Mexican, a wife, a mother and professional, I know firsthand all the obstacles we encounter living in this great country. I look forward to make a contribution and serve to the Hispanic/Latino community as we work together to help the needs of our community."