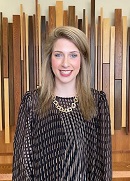 By Morganne Fuller,
Senior Accountant
It's no secret that the world is experiencing a new climate that goes even beyond high-profile topics such as COVID-19 and politics. This new climate does not discriminate against any type of business, especially the nonprofit sector. In addition to the many challenges they face while fulfilling their mission, nonprofits are struggling to find enough qualified applicants to fill their open positions. To help combat this issue, it's crucial keep low employee turnover.
One of the many great things about nonprofit organizations is that they are mission-driven. Nonprofit employees show a certain passion for their work that is contagious, and working for a great cause can inspire great motivation.
However, this type of motivation can be difficult to maintain without human interaction. Before the COVID-19 pandemic, employees could feed off of one another's energy. Now, it is assumed that remote or hybrid working schedules can be incorporated. Therefore, organizations must create opportunities for employees to interact with each other, such as creating virtual coffee breaks or scheduling virtual check-ins. Keeping the mission of the nonprofit included in the forefront of daily tasks will help keep the foundation of the organization strong.
Nonprofit employees have no problem identifying with their agency's mission. To maintain this special bond and foster stronger connections, it is crucial to create opportunities for employee growth. One way to achieve this is through a mentoring or coaching program. Strong leaders in an organization can provide guidance to staff for unique situations nonprofits face while also providing transparency of the day-to-day and overarching operations. On the other side, staff have a chance to provide their thoughts to leaders on a large variety of topics that are important to them. This type of communication promotes unity amongst employees.
Creating opportunities for social interaction and employee growth are great ways to foster employee retention, a vital part to maintaining a passionate workforce that nonprofits need to fulfill their mission.