HBE Recognized for Equity Leadership for Sixth Year in a Row
June 1, 2020
For the sixth consecutive year, we are pleased to announce that HBE LLP has been named to the Accounting MOVE Project's Best Firms for Leadership Equity. Our firm is one of just 21 nationwide awarded this honor in 2020.
HBE has a long history of leadership equality due to core values centered upon integrity, respect, and teamwork. With family-friendly benefits, including unlimited PTO and remote access, flexible leadership pathways, and tailored workplace support systems, we are committed to fostering an environment where all of our associates, regardless of gender, age, race, or other diversity, are able to thrive within the profession.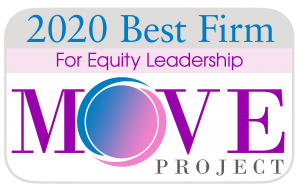 Since 2010, the Accounting MOVE Project has measured and supported the advancement of women at accounting and consulting firms. MOVE is the only annual benchmarking project that both counts and advocates for women in the profession. The Best CPA Firms for Equity Leadership list is based on MOVE survey results and recognizes firms with at least 30% women partners and principles, as roughly a third is the widely recognized 'tipping point' for members of any identity group to have individual impact. The Equity Leadership list recognizes firms that have achieved that milestone through any combination of culture, programs, initiatives, and growth.