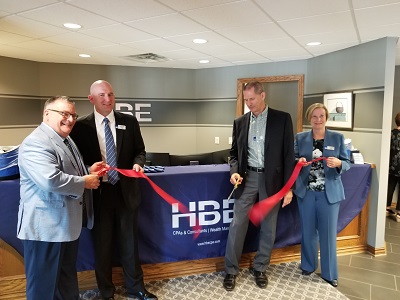 Ribbon Cutting Held to Celebrate Anniversary of Fuhrman, Smolsky, and Furey, P.C.'s Merger with HBE LLP
On Monday, September 30, the professional accounting firm formerly known as Fuhrman, Smolsky, and Furey, P.C. (FS&F) celebrated the one year anniversary of their merger with HBE LLP by hosting a ribbon cutting with the Greater Omaha Chamber of Commerce. The merger, which occurred in October 2018, united the FS&F partners and staff under the HBE brand, broadening the combined firm's statewide presence and strengthening its accounting and financial management services in the Omaha market.
"We always had great respect for the integrity, reputation for quality, and practical approach to serving clients that Anne Fuhrman, John Smolsky, and Kevin Furey subscribed to as owners of FS&F," said Scott Becker, managing partner of HBE. "When we initially began conversations with them about their goals, our own long-term vision, and where the profession is heading, it was clear that a merger would be ideal. The past year has gone better than we could have imagined and we are honored that the FS&F partners and staff are now a part of our team."
Following the completion of the merger, Anne, John, and Kevin became part of HBE's partner group. They continue to serve clients from their existing office, located at 9802 Nicholas Street in Omaha.
About HBE:
HBE is a leading provider of professional accounting and consulting services throughout Nebraska. The firm offers a complete range of financial management services for businesses, not-for-profit and governmental organizations, niche industries, and individuals. These services include audit, tax, business advisory, outsourced accounting and CFO solutions, personal financial planning, and wealth management. For more information, please visit www.hbecpa.com.