Announcing the Growth of our Omaha Partner Team with the Addition of Scott Scheef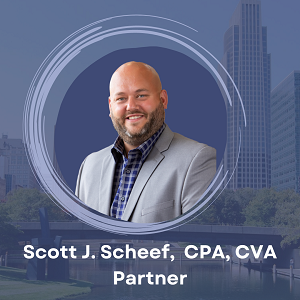 HBE is pleased to announce the growth of our Omaha-based partner team with the move of Scott J. Scheef, CPA, CVA to the Omaha community. Scott will join current HBE partners Anne Fuhrman, John Smolsky, and Kevin Furey in leading the Omaha practice, effective March 13, 2023.
Scheef joined HBE as an accountant in 2011 and was promoted to partner in 2021. He specializes in assurance, tax, and accounting services for clients primarily within commercial industries. As a Certified Public Accountant and Certified Valuation Analyst, Scheef also provides specialized succession planning, buy-sell consultation, and estate planning advisory services. He currently leads the firm's Construction Industry Specialty Team.
"We are excited for Scott's move to Omaha and the expansion of our leadership team in the community. His passion for HBE's vision and his commitment to the profession will allow us to amplify the strength of our services within Omaha's vibrant marketplace," said Scott Becker, Managing Partner. "We are proud of Scott's dedication and accomplishments as a trusted advisor, and we enthusiastically support his progression as one of our Omaha practice leaders." maintained close connections and an affinity for all the city has to offer."
With office locations in Lincoln, Norfolk, and Omaha, HBE operates as a cohesive team of trusted advisors to serve clients seamlessly across specialized service lines, niche industries, and demographic regions.
"This move is extremely exciting as it will allow me to serve my current clients while also focusing on the regional growth of HBE. I am eager to join Anne, John, and Kevin in partnering with clients and community leaders to guide the future of our firm in Omaha and the surrounding areas," stated Scott Scheef. "On a personal note, my family and I are eager to complete our relocation and become active within the community. Having previously been an Omaha resident, I have always
About Our Firm
With 17 partners and nearly 120 total employees, HBE is a leading provider of professional accounting and consulting services throughout Nebraska and the Midwest region. Operating from multiple office locations, the firm offers a complete range of financial management services for businesses, not-for-profit and governmental organizations, niche industries, and individuals. These services include specialized advisory, tax, audit, data analytics, business valuations, outsourced accounting and CFO solutions, personal financial planning, and wealth management.
Investment advisor services offered through HBE Wealth Management, LLC.